Workday Adaptive Business Solutions
Discover Success through Collaborative Planning, Forecasting & Reporting
Imagine how much your business could accomplish with a robust, unified suite of tools that facilitate:
Collaborative planning and forecasting
Budgeting
Reporting
Analytics
Consolidation
As a Workday Adaptive Gold Solution Provider, our Perks team is highly-skilled and experienced in the conception, build and delivery of Workday Adaptive's full suite of capabilities. We tailor solutions to fit your business' particular needs and work with you to drive adoption within your internal teams.
---
Workday Adaptive Planning Solutions
In our experience, many businesses struggle to meet their planning needs through their current outdated systems and As many businesses can attest, utilising these antiquated systems and spreadsheets…for planning purposes can leave one's business at the mercy of version control issues, manual errors, macros that break and broken links.
Workday Adaptive's Planning functionality addresses these issues as it is able to provide:
a flexible planning solution that is easy to use;
comprehensive functionality that supports collaboration;
audit logging of changes; and,
reliable access and security, as it lives in the cloud, so that you don't have to worry about desktop crashes or the wrong data being accessed by the wrong personnel.
To give you a visual idea of Workday Adaptive's Planning solution, there are three primary, flexible model (sheet) types that are most often employed for planning purposes, the choice of which depending on the type of modelling required.
Standard
This modelling type has the look and feel of Excel, but with the added advantage of "English" based formulas and some great tools that make data entry easy.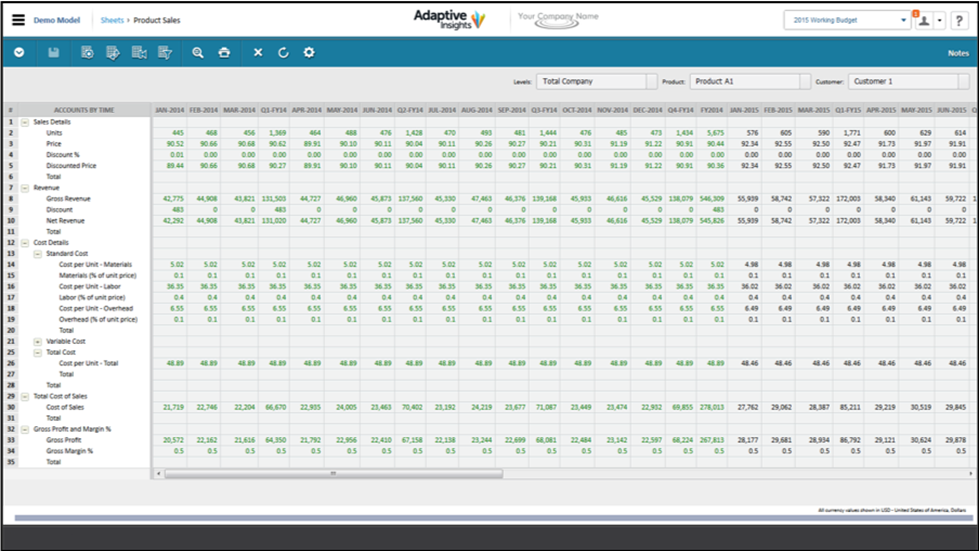 Modelled
The second type of sheet has a clean, user-friendly interface. It allows you to setup the template so that only specific source data fields (numerical and/ or text) need to be input, which are then used to calculate the required values to feed into your budget.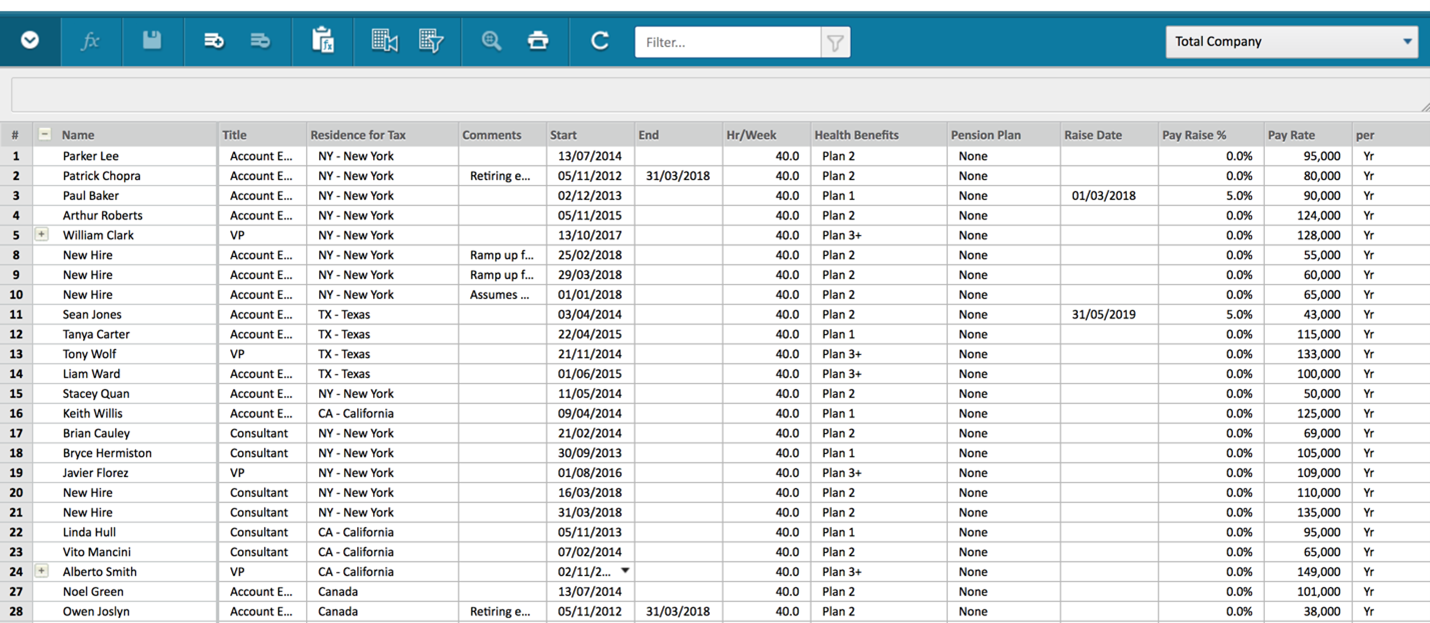 Cube
The third type of model sheet is used for situations where you need to budget across multiple dimensions.

Workday Adaptive Reporting
Workday Adaptive's comprehensive reporting engine allows you to manage your organisation's various financial and management reporting requirements with ease. Report building for your team becomes as simple as using drag-and-drop report builders, turning reporting from a lengthy chore into an effective and efficient process.
Another key feature that many businesses and organisations love is the OfficeConnect tool which allows users to create reports in the Microsoft Office suite that be configured to access all of the businesses data that is stored within Adaptive.  High quality formatted management and Board reporting packs can be built to refresh automatically at the click of a button.
---
Workday Adaptive Analytics
Workday Adaptive Analytics provides intuitive dashboards that help key stakeholders from across the organisation engage with data and key performance metrics. All levels of stakeholders can now be empowered through visual data insight and discovery that is designed with the specific user in mind – executives, managers, finance teams and operations teams.
Visual Communications that works for your Team
Imagine what your organisation could achieve with access to easy to digest insights fed by relevant, timely data feeds! Our Perks Cloud Solutions team works with you to determine the key necessary views that will paint the appropriate picture that will engage your various stakeholder groups, and set-up these various dashboard templates for your use. Need to update a dashboard? With Workday Adaptive's intuitive interface, you can quickly create and deploy KPIs in a matter of minutes. Organise dashboards tailored to your own role. No programming involved and no need to rely on IT.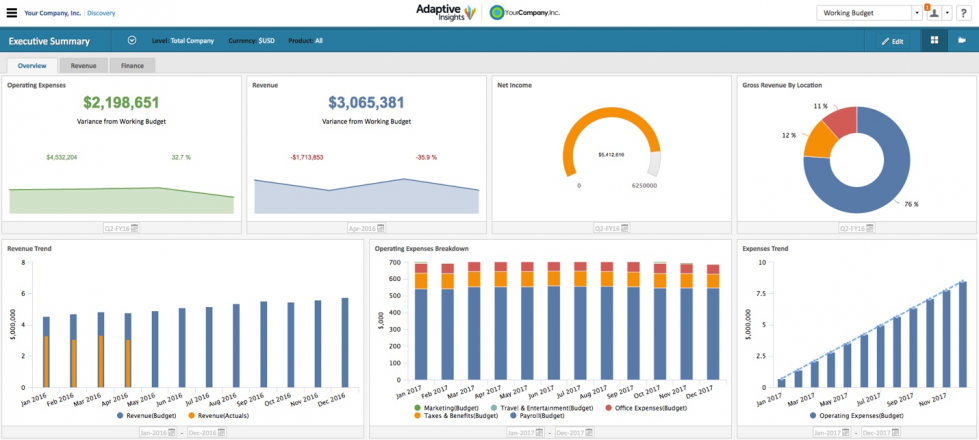 Analysing trends, modelling scenarios
You can easily drill down and across multi-dimensional data from multiple systems, as the Workday Adaptive Analytics module becomes the central hub of all your data. With a single source of truth powering these visual insights, you can use intuitive charts and sophisticated trending analytics to see the root cause of an event and its underlying drivers.
Want to know what will happen if you change a variable or input?
Done! The analytics module also allows you to easily model "what-if" scenarios and see the results visually, and in near real-time.
---
Consolidate complexities
For those whose operations require consolidation across borders, currencies and different ownership structures, Workday Adaptive can set up a complex multi-layer organization structure with the ability to set individual currencies for any level within the structure. Actual and forecast results can then be reported on in any currency for any layer within your organization hierarchy.
Adaptive also provides a comprehensive consolidation solution with capabilities that automate currency exchange, allocations, eliminations, reclassifications, and minority interest. Journal entries ensure that updates to GL account balances are actually balanced, so gone are the days of one-sided elimination entries.
With a single cloud-based system for managing consolidation, planning, forecasting, reporting, and analytics the Workday Adaptive Business Planning Cloud makes it easy to pivot from close, to plan, to analyse. No separate systems and no siloed information make for one unified experience.
---
Speak to our Cloud Solutions Director
Nick focuses on improving business processes, implementing high quality management reporting and business planning systems through digital solutions.
Find out how Cloud Solutions can help your organisation.
Please select a valid form.