Overview:
In a tumultuous time for the arts, the Adelaide Festival reaffirms itself as the benchmark cultural event in the Southern Hemisphere with a packed 2021 program, including 10 world premieres, 14 Australian premieres and 18 events exclusive to Adelaide. Headlined by the important historical work A German Life, the Festival will once again be supported by Perks Private Wealth which is proud to extend its partnership for a second consecutive year.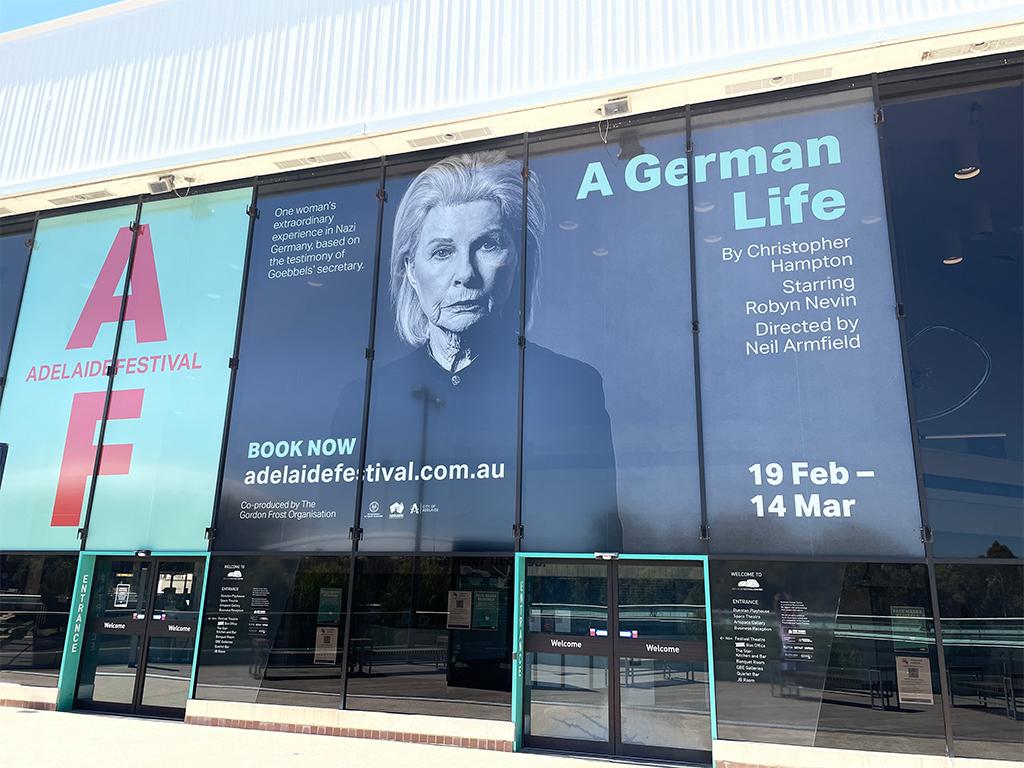 As far as modern history goes, arguably no event has had greater influence over the development of our society than the Second World War. In 2021, as social catastrophe creeps closer that only united action can stop, there has never been a more important time to reflect on the mistakes of the past or be doomed for history to repeat itself.
British playwright Christopher Hampton has fashioned an extraordinary tale of Brunhilde Pomsel the personal secretary to Joseph Goebbels', the Minister of Propaganda of Nazi Germany. Pomsel was one of the last actively involved witnesses to the rise, fall and aftermath of the Third Reich. Based on the real-life testimony Pomsel gave to Austrian documentary makers at the age 103, A German Life tells the tale of an intelligent, likeable, honest, credible and resolutely 'apolitical' woman who worked alongside some of history's most notorious figures. She doesn't hide her youthful ignorance at the regime's atrocities, her awe at finding herself at the heart of power, nor does she show any false remorse. Her refusal to think too hard about what was going on and focus instead on her own life, raises confronting questions for contemporary audiences.
A German Life is a highly demanding 90-minute solo that provides Adelaide with the rare opportunity to witness the work of one of our finest stage performers, Robyn Nevin, under the direction of Neil Armfield who also serves as Adelaide Festival's Joint Artistic Director, alongside Rachel Healy.
As one of the Festival's headline acts, A German Life is a fitting and poignant work of theatre in amongst a smorgasbord of discovery at the 36th Adelaide Festival, which features a total of 70 events in theatre, music, opera, dance, film, food and visual arts.
Rachel and Neil explain why their fifth program as co-Artistic Directors is one of their most necessary and memorable.
"Since March, the question we have been consistently asked is 'how do you plan a festival in a pandemic?' Admittedly, it has not been easy, but we focused on finding solutions," they said.
"We wanted to ensure Adelaide Festival remained true to its 60-year tradition of bringing great international artists and events to our city while simultaneously supporting Adelaide companies and others from throughout Australia.
"The 2021 Adelaide Festival has a record number of Australian premieres and we also backed new creative collaborations and made early investments in artists and projects that will bear fruit in 2022 and beyond.
"We've also found ways of giving Adelaide audiences 'international' experiences so they remain connected to the thrilling and urgent creative voices of artists beyond our shores."
Director and Head of Perks Private Wealth, Simon Hele, said the firm is pleased to once again partner with the Adelaide Festival and continue its support of the arts through challenging times.
"The Adelaide Festival is one of the premiere cultural events in Australia, bringing together a brilliant variety of performances, including important Australian works such as A German Life," he said.
"Arts and culture remain such an important fabric to our society and Perks Private Wealth is proud to bring these bold conversations to life and support the Adelaide Festival to continue to deliver powerful programs during an incredibly difficult time for the artistic industry."