Overview:
Simon Hele, Director of Perks Private Wealth, recently spoke with Hamish Douglass, Co-Founder, Chairman and Chief Investment Officer of Magellan, on the global investment market.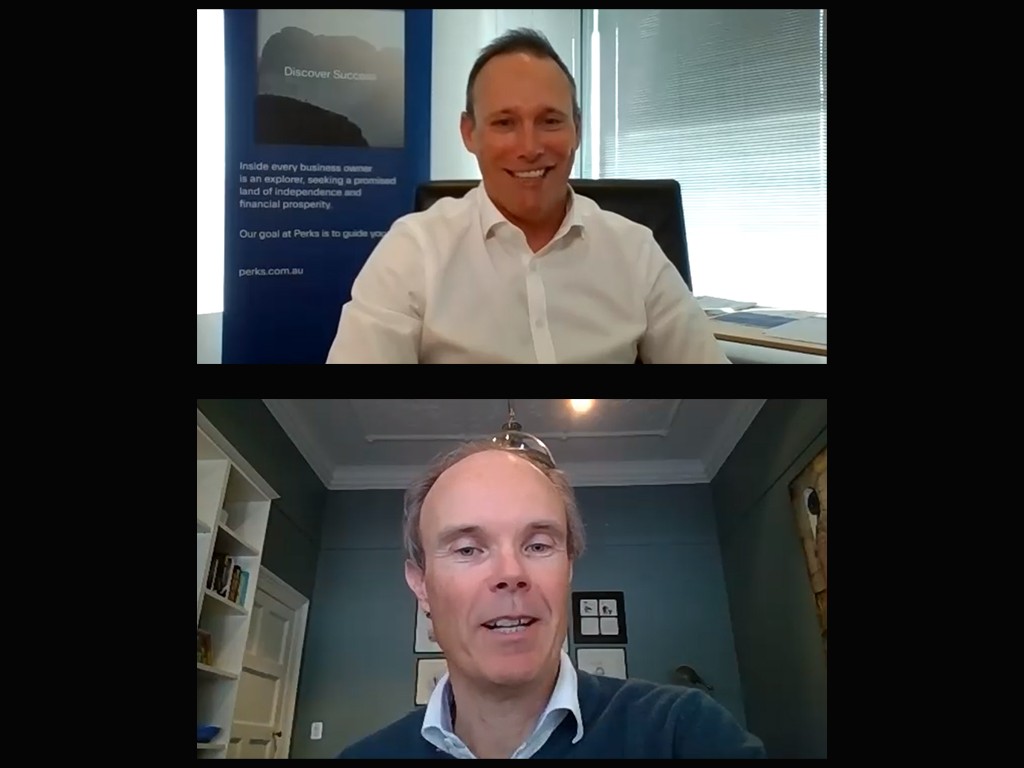 Transcript
Simon:
Welcome to everyone in our Perks community. Today, I'm speaking with Magellan co-founder, chief investment officer and lead portfolio manager, Hamish Douglass, to give us his perspective about COVID-19, the economic and health crisis. Hamish, welcome. And thank you for taking the time to speak to our Perks clients today.
Hamish Douglass:
Simon, it's great to be speaking with you today.
Simon:
I just wanted to start by just asking you whether or not, it's been such a successful journey for you personally, do you ever get time to reflect where you started, where Magellan is today, and I suppose the responsibility that your firm holds in investing so much of people's wealth in Australia?
Hamish Douglass:
Yeah, it's a very interesting question. Of course, Magellan has been very successful, but in a Jeff Bezos world of how he looks at it, you have to keep that day one mentality. If we start reflecting and getting full of ourselves about the success of Magellan's had, we're going to start to lose focus. As Bezos says, stasis starts to come in.
Hamish Douglass:
So, we like to stay incredibly focused in what we do and obviously you're right. We'd look after a lot of client money and that carries an enormous responsibility and we understand that responsibility and we don't cut any corners. We're not any less hungry today than we were 10 years ago in this business. And we keep trying to innovate and solve solutions. We keep wanting to move forward and solve more problems. You know, we launched active ETFs, we brought our product onto the stock exchange a number of years ago. We've been working for years trying to find a better answer for retirement here. We've just launched that core series of our products, which is sort of a lower cost way of doing things we know that's important to clients.
Hamish Douglass:
I'm very lucky, I don't feel I work for anyone which helps, because I was sort of a founder of the business. I feel like in a business sense, we're painting a picture and I don't know exactly what the picture will look like in 10 years and 20 years. But I do think out 10 and 20 years, I'm not like a normal chief executive. I'm not the chief executive, I'm the chairman, but I don't feel I've only got five years and the board's going to kick me out, which enables me to think long term.
Hamish Douglass:
But I just love coming to work every day and it's just so interesting. I have a bunch of people at work who I greatly admire. Many of them become close friends. We don't have people we don't like in the office. We kind of got a no dickheads policy. I shouldn't say that, but that's kind of how we feel at Magellan and everybody knows it's how we feel at Magellan. I get to travel around the world. I meet super interesting people. We then get things like pandemics, which are frightening, but they're also intellectually very interesting in how you have to navigate around. And the markets just continuously throw up obstacles in front of you. So, I never get bored, I love what I do, but that there is a huge sense of responsibility to people as well. And we never lose sight of that.
Simon:
I last heard you speak in Adelaide, back in February and looking back the world was just sort of coming to grips with the significance of this virus, albeit it hadn't hit the Australian shores. And I remember you talking about that at the time that it could move very quickly and you were very watchful, but you weren't prepared to speculate. And a lot's happened in that last six months. Can you talk about some of the significant longterm implications or COVID-19 crisis from your perspective and how you are responding and reacting with your own portfolios?
Hamish Douglass:
Yeah. There's a number of implications that we know, and there's probably a number of implications which we don't know at the moment and that's important to understand. Probably the most profound implication is we're probably going to go through a period of very low interest rates and very low inflation. We're likely to have a recession coming out of this. Central banks are likely to keep interest rates very low for an extended period of time. That matters when you think about valuations of stocks. And we're starting to see that in markets at the moment. So, that's an important, longer term development. That doesn't mean inflation will stay low forever. And it's a very important thing to also understand that there have been winners and losers at a stock level, from a business level, from that pandemic.
Hamish Douglass:
And I'll tell you, what's really happening is an acceleration of business trends. So e-commerce is accelerating. Amazon and Alibaba are big winners. Shopify is a big winner out of these pandemic, but traditional retailers are under, there's been many more bankruptcies in the retailing world, in the traditional retailing world. And that sort of accelerated trends has been a lot more digital engagement. We were sitting on a Zoom call, Zoom share price has taken off, but Microsoft has a very big streaming business. Actually, it's a very, very big productivity business. The Microsoft business is accelerated through this pandemic. Most people are finding problems, but Microsoft has had two of their best quarters in the last six months that they've had in many years in the middle of a pandemic. More people, we don't own it, we don't own Netflix, but more and more people are watching streaming services like Netflix, and they're signing up more and more users.
Hamish Douglass:
So they're clearly winners. But on the other side of that coin, it's probably accelerating the demise of television. Viewers are moving away from traditional television and pay television at an accelerating rate. These business models are terminal at the end of the day. So you can see winners and losers in the real estate world. It's clearly a retailing, if it's under pressure, can retailers continue to afford to pay the rents? And if the rents go down, will the value of the real estate go down? Of course it will have to go down if that's a consequence. But many people are talking about, and I put in the unknown category, we've all been working from home and there's theories out there that everyone's going to move out of the office towers and the office towers are going to be far less valuable.
Hamish Douglass:
I think people are going to have a lot more flexibility in the future, but are people never going to come together in offices again? There's a huge, positive benefit in people getting people together. There's a big social element, there's a creative element that occurs in the office. So are you able to close your real estate or are you have to going to keep your real estate to give people more flexibility? So, I think you have to be careful not to over extrapolate. What's just going on at the moment.
Hamish Douglass:
And if you look at travel, travel is a very interesting thing. People go travel will never be the same. I'll tell you, people will have short memories. People will go on holidays again, and they'll get on planes again. It might take a little while to get on a cruise ship again, if you're old, because they might look like a floating Petri dish for quite some time, but even cruise ships will happen again in the future.
Hamish Douglass:
But business related travel is a very interesting question. Whether that curve has been shifted because of the acceptance of video conferencing, do you really need to travel all around the world for a meeting when you could do it on a video conference? And both sides have now have been forced into this world. And we understand that it works very well. So, I think there are things we know, we think on both sides of the coin winners and losers, but there's stuff that there's some water to go under the bridge. Yeah. But interest rates is a big issue here as well.
Simon:
I know your fund has continued to increase its cash position. And I know one of the key ethoses of Magellan is capital preservation, which resonates really strongly with us here at Perks. I'm also interested in I about where you see future growth, then are there any stocks or themes in your portfolio that you think will weather the pandemic better than others, or actually could outperform in that period? And what gives you the confidence that the growth behind those investments will continue?
Hamish Douglass:
That's a very big question, Simon. I must admit we've got a pretty good pandemic portfolio in terms of what's really going on in the world. It's just not our offense portfolio, which would be our growth oriented portfolio, it's also our defensive portfolio. In terms of what we're looking for on the growth side, we're looking for businesses that can grow at multiples of world GDP for a very extended period of time. And to do that, they really have to be either creating new markets, but often taking market share from existing markets. So the markets themselves may growing in line with sort of GDP growth, but to grow faster than that, you have to be taking market share or creating a new market.
Hamish Douglass:
So if you think about cloud computing, the cloud computing market is in very, very early stages where two things are going on there, you are taking market share from traditional computing sources. People have their own servers and their own PCs. And that a lot of that computational hosting of software is going to be moved to the cloud. So, that is just changing the infrastructure costs from being on premise to being in the cloud. So, that's a market share gain. But they are also creating new markets because so much process that currently goes on is going to be turned into software. It's going to be digitalized and that new software is going to be hosted in that in the cloud as well. So, we would say that that industry has decades to run and there are some very big players.
Hamish Douglass:
The total it industry in the world is around 5 trillion US dollars and it's forecast, which is about 5% of global GDP because of the digitalization effect, it's forecast to double its share of GDP. Many, many more things will take human library and other things and become digital. And then that will be hosted in the cloud. So, an industry that may look big and you may think Microsoft's a very big company, but it's attacking trillions of dollars of sales potential in the long term. So we're very focused on these multiple of GDP sort of growth stories, that's where our China story comes in. We believe China, we could talk about that, but the Chinese consumption story because of the income pyramid over the next 10 to 20 years is going to grow much faster than world GDP growth. And actually because of transitioning up the income curve that this sort of prestige and luxury end grows much faster than the bottom end of the curve.
Hamish Douglass:
And we think they've got a very long runway to occur on the other side of our book is really defensive businesses. So that's playing on the offense, but we're looking for wonderful businesses that can be very resilient even when the economy turns down. This is where our utilities investment city, and it's where our business like crown castle, which is America's largest owner or macro towers that host the cells that, that redistribute our mobile communications. And now they're building out a network of what called small cells that run off their fiber network to help roll out 5G. And we all know that there's an explosion of data in the world, and they have to be hosted on these networks and that's a defensive business, it's a CPI plus business of the world.
Hamish Douglass:
So we looked for both. And the last thing we would look for, which we look from time to time is sort of cyclical investments. So, where there are some very high quality cyclical investments, that if you buy them at the right time, you can earn excess returns. We did that in Home Depot and Lowe's many years ago, coming out in 2010 out of the last crisis. We'd bet on US housing recovering. Well, one very interesting vector at the moment is the travel industry. It has been deeply disrupted from this pandemics. So are there some very high quality travel? We haven't invested in them, and I'm not just talking about travel agencies. It's much wider, it could be airports, it could be online travel agencies, it could be aircraft manufacturing. It could be things that are exposed to duty-free purchases around the world. Travel expenditure. It's knowing, but that's a really interesting one if you think about it, a cyclical recovery story that may get mispriced.
Simon:
I'm just thinking apart from COVID I think the other big event that's starting to be upon us is the US election. And whether president Trump gets a second term or not, I know you're close to the US and you have a lot of intelligence that comes out of the US through Magellan. If Joe Biden's team does beat Trump, what do you think that means for the markets? And what does he think? It means specifically for your fund?
Hamish Douglass:
If Joe Biden wins the White House and they win the House of Representatives, but they don't win the Senate, nothing really will change because the Republicans will block all fundamental reform legislation at the Senate. It will be dead on arrival. So whilst Biden is way out in the six swing States, actually way out in five of the six swing States in the race to the white house and the Democrats, which are the incumbent majority of that House of Representatives clearly look like they're going to hold the house if there's not a swing against some. There it's only a 50/50 odds, whether the Senate will flip. At the moment, the Senate is 52 seats, Republicans, 48 seats for the Democrats. So the Democrats have to turn the Senate in order for there to be any fundamental impact of change of legislation here.
Hamish Douglass:
But there's something many further than that if you really want to dig into it and it's really important. There is a rule in the Senate that outside budget legislation, any other legislation requires a super majority of 60 of the 100 senators to pass a piece of legislation before it goes into a debate called a filibuster. And that means legislation can be permanently held up, can never be passed without a super majority vote. And this is why Obama could so little when he was in power because no party's ever going to get to 60% of the Senate and you have a third Senate election. It's just impossible to get to that math. But if you control the Senate, you could change the rules of the Senate and make legislation a simple majority.
Hamish Douglass:
No, one's wanted to do that before, because it can come around and bite you when you're not in power, it's meant to be a check and balance in the United States. But Obama recently gave a speech and he's tempting the Democrats that if they win the Senate and the House of Representatives and the White House, they should change the rules and get rid of this filibuster so it's a simple majority in the Senate. And he's tempted them by saying, "If we do that, our first piece of legislation, which would pass is the creation of two new States in America, the District of Columbia and Puerto Rico." I mean, if you understand how US politics works, every state appoints two senators. So suddenly this tiny little district that wraps around Washington DC and this tiny place called Puerto Rico get the same amount of senators as Texas and California and Florida. That could completely change the makeup of the Senate, probably skewing it in the Democrats favor.
Hamish Douglass:
So Obama's going, "I know we are terrified of changing this rule, but don't, because let's change the Senate as well by actually making them states." So those two districts would have to pass a referendum, which I think they would clearly get through with that. They can't happen at the moment because the filibuster would stop that happening. And the Republicans would be horrified of those States, so sort of the Democrats are horrified that what happened on the Supreme court in the United States.
Hamish Douglass:
If that was to happen and they changed the Senate rules, then I think there are fundamental potential consequences for markets. You could have a material expansion of Obamacare or Medicare, and that would really affect healthcare companies. We've actually sold down one of our healthcare exposures because of this risk, Hospitals Corporation of America, which is a great company, but it's very exposed to a change in Medicare in the United States.
Hamish Douglass:
You may well see, I think you'd get a big change around climate change policy and huge state sponsored investment schemes under the New Green Deal. But again, they have to change the rules to do this. And I think there's a chance. There's a chance because the Democrats believe they're running out of time here on climate change, there's a fundamental belief there and therefore it's worth taking the risk.
Hamish Douglass:
So when it comes to election night, if you're trying to understand how the markets react, if the Senate doesn't fall to the Democrats, the markets are going to yawn. If the Senate falls and there's increasing talk around this filibuster going, I suspected there will be certain sectors of the who will not be happy. The energy sector will probably not be happy. We'll look about re unionization. So areas where unionized workforces could come in. So healthcare reform becomes much higher probability or it becomes almost a certainty in that environment. So it a bit depends. It's not just a simple as Trump versus Biden and the odds of them getting the trifecta is in the low thirties at the moment because the Senate is such a knife edge, whether that would fall at the moment.
Simon:
And finally, just this recent crisis has been interesting from an investment perspective, because we seen a swift change in human behavior. And recently short term investors have been driving parts of the market higher as people become obsessed with the short term. At Perks, we've very much got a philosophy that sustainable wealth creation is built over time and getting the strategy right over the longer term with this in mind, what advice would you have for investors who are looking to make a quick return in today's, what I think is a really difficult and challenging environment.
Hamish Douglass:
So, I think there's a huge difference between investment and speculation. People who are trying to make quick returns are trying to predict that the share price would change in a short period of time. It's can be completely divorced from the investment fundamentals of investment. Investment is about working out where the cash flows are going over a long period of time and then letting the market value those cash flows over time. It's all about compounding your money.
Hamish Douglass:
So investment is about compounding short term speculations about trying to have a guess where a share price will go in the short term. And at Magellan, we're all about investing. We do an enormous amount of work. Where the competitive dynamics are where the earnings are going. And in the end, we will back that if we're right on the direction of the business, over the longterm in the earnings, the market will reward it.
Hamish Douglass:
You know, Benjamin Graham had a very, very famous saying. He said in the short term, the market is a voting machine as it's a speculative machine. In the long term, it's a weighing machine. And investing is all about getting a long term, right and then letting the magic of compound interest work for you and investing is all about compounding. And one of my favorite quotes on investing at all time is from Benjamin Franklin, who was one of the founding fathers of the United States of America is also a very, very good inventor. And he was fascinated by compound interest. He actually left Pittsburgh some money in his will that couldn't be touched for a hundred years in order to show the citizens of Pittsburgh, what compound interest was about. And his saying was along the lines of, "Money makes money. And the money that money makes bikes more money." And if you think about it, that's what investing is all about. It's about putting away some money to die and patiently let that money work for you at the time.
Simon:
Hamish, can I thank you for taking the time to speak with us today. And I also want to acknowledge on behalf of the team here at Perks, your team and continuing to deliver such strong and consistent results for our clients. We look forward to the next chapter post COVID with you and the Magellan team, and hopefully the world gets to some sort of normality in the not too distant future. But we really appreciate you taking the time to speak to us Hamish.
Hamish Douglass:
Simon, an absolute pleasure.