After the COVID disruption and partial global share market recovery, we've seen volatility and lower returns overall in 2020. Since the depression years, 2020 has been the most volatile year on record, even surpassing 2008 (GFC).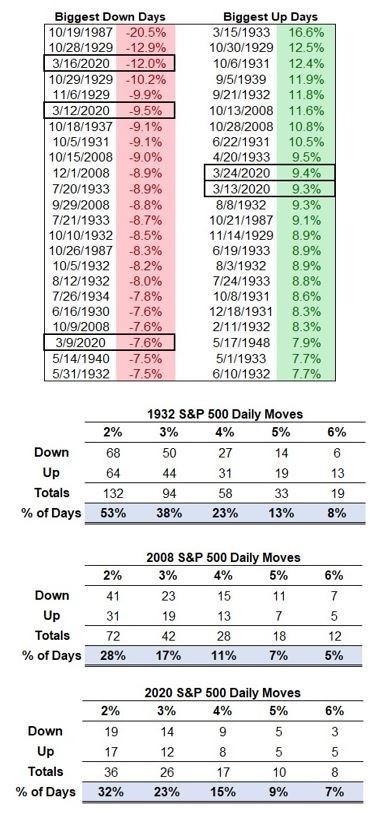 Source: Ophir Asset Management
While we might expect returns of 7% – 8% p.a. from shares in the long-run, the market doesn't always produce a smooth ride. In this changed low global economic growth environment, here are our five ideas to optimise your private wealth and achieve your financial goals:
Diversify: Prioritising growth involves managing more risk
Don't rely on Bonds to insure your portfolio: Get tactical
Consider investing in alternative 'real' assets
Watch international politics closely
Measure your expectations
1. Diversify: Prioritising growth involves managing more risk
In a low-growth market, some investors may prefer high-growth stocks over those that would traditionally deliver stable, longer-term returns. Although analysts forecast equity returns will be better than for bonds, those equity forecasts are still at the low end of the historical range in absolute terms in the context of the preceding 10-year bull market.
Yet a well-diversified share portfolio paying sustainable dividends can provide some security during volatile times. Also, stocks in defensive sectors like utilities, health care and consumer goods tend to perform well when the economy grows slowly. This is because consumers still need their essential products and services. Keep in mind that boosting low returns by allocating more to higher-yielding investments does entail taking on more risk and this must be well managed.
2. Don't rely only on Bonds to insure your portfolio: Get tactical
Traditionally, the role of government bonds within an investment portfolio is to insure against losses from riskier equity assets. However, interest rates have never been lower and Australian 10-year government bonds pay less than 1% p.a.! When yields are already very low as they are now, there is simply less room for them to fall further and boost a bond's capital value.
So, in this environment, bonds don't provide as much downside protection. Even so, some bonds may warrant inclusion in 2020 but you should balance them with other investment options – perhaps holding additional cash in the short-term waiting for bouts of volatility to present better long-term value.
3. Consider investing in alternative "real" assets
If you prefer long-term growth over liquidity, several property sub-sectors are worth considering now. Unlisted commercial property and infrastructure are still an attractive source of returns to add a layer of portfolio diversification. For many, accessing such assets require an investment amount that's out of reach but experienced, well-positioned wealth management firms can overcome this hurdle.
4. Watch international politics closely
Given Trump's preoccupation with equity market returns, asset prices might be boosted in the run-up to the 2020 US Presidential election in November. Yet it is important not to get caught up in the renewed market optimism as it's unlikely the global economy can get back to its pre-COVID state before the Government stimulus starts to roll off.
Meanwhile, Central banks around the world (including our RBA) are expected to remain supportive and short-term interest rates are likely stay low or keep falling, thus supporting share prices. In a market buoyed by low interest rates, it is important not to forget about share price valuations. Amid all the investment market 'noise', some things are eternal and ultimately prevail – just as stocks trading at a discount to their true value eventually recover, stocks priced for perfection will eventually disappoint.
5. Measure your expectations
Low yields and constrained GDP growth suggest it's unreasonable to expect a 'balanced' portfolio to deliver the double-digit returns of the past, or even high single-digit returns. It's best to invest for a long-term plan that suits your wealth, age & risk tolerance.
As most investors know, diversifying insulates you against risk so you have the most certain opportunity for growth. In a low-growth market, choose a portfolio with several different yield producing investments. This may include a mixture of equities, bonds and alternative real assets including unlisted property or infrastructure.
Ask your financial adviser to break down your options and risks. Getting the right investment advice can make all the difference in planning your financial future to meet your financial goals and maximise your private wealth potential.
Perks Private Wealth advice and services are provided by Perks Private Wealth ABN 086 643 058, Australian Financial Services Licence No. 236 551.
This document contains general advice and has been prepared without taking your personal circumstances into account. You should consider the appropriateness of it in light of your own personal circumstances. You should obtain and read the PDS and seek advice if necessary before acquiring any financial product. Please refer to our FSG (available at [insert website]) for contact information and information about remuneration and associations with product issuers.
This information, including any assumptions and conclusions, is not intended to be a comprehensive statement of relevant practice or law that is often complex and can change. To the extent permitted by law, no liability is accepted for any loss or damage as a result of any reliance on this information.